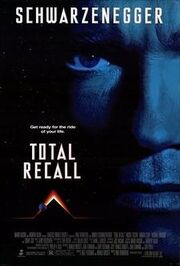 Total Recall is a 1990 American science-fiction action film directed by Paul Verhoeven, starring Arnold Schwarzenegger, Rachel Ticotin, Sharon Stone, Ronny Cox, and Michael Ironside. The film is loosely based on the Philip K. Dick short story "We Can Remember It for You Wholesale". It tells the story of a construction worker who is having troubling dreams about Mars and a mysterious woman there. It was written by Ronald Shusett, Dan O'Bannon, Jon Povill, and Gary Goldman, and won a Special Achievement Academy Award for its visual effects. The original score composed by Jerry Goldsmith won the BMI Film Music Award.
With a budget of $50–65 million, Total Recall was one of the most expensive films made at the time of its release, although estimates of its production budget vary and whether it ever actually held the record is not certain.
Jack in the Box
[
]
A neon Jack in the Box sign can be seen during a scene in Venusville. This scene occurs at 54:17 on the DVD.[1]
Trivia
[
]
The sign uses the tilted logo introduced in 1980.
Arnold Schwarzenegger and Jack in the Box previously appeared together in the 1979 movie Scavenger Hunt.
References
[
]