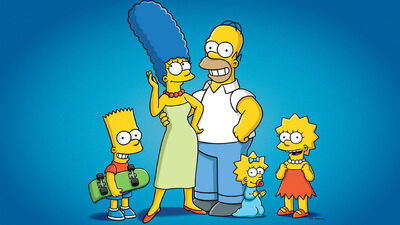 The Simpsons is an American animated sitcom created by Matt Groening for the Fox Broadcasting Company. The series is a satirical depiction of American life, epitomized by the Simpson family, which consists of Homer, Marge, Bart, Lisa, and Maggie. The show is set in the fictional town of Springfield and parodies American culture and society, television, and the human condition.
The family was conceived by Groening shortly before a solicitation for a series of animated shorts with producer James L. Brooks. Groening created a dysfunctional family and named the characters after his own family members, substituting Bart for his own name; he thought Simpson was a funny name in that it sounded similar to "simpleton". The shorts became a part of The Tracey Ullman Show on April 19, 1987. After three seasons, the sketch was developed into a half-hour prime time show and became Fox's first series to land in the Top 30 ratings in a season (1989–1990).
Since its debut on December 17, 1989, over 600 episodes of The Simpsons have been broadcast. It is the longest-running American animated series, longest-running American sitcom, and the longest-running American scripted primetime television series, both in terms of seasons and number of episodes. A feature-length film, The Simpsons Movie, was released in theaters worldwide on July 27, 2007, and grossed over $527 million, with a sequel in development as of 2018. The series has also spawned numerous comic book series, video games, books, and other related media, as well as a billion-dollar merchandising industry. It was renewed on February 6, 2019 for a thirty-third and thirty-fourth season, taking the series up to 2023 and 750 episodes. The Simpsons is a joint production by Gracie Films and 20th Television.
Jack in the Box
[
]
In the 2019 episode "The Winter of Our Monetized Content," Homer imagines a version of Mount Rushmore where the presidents are replaced with fast food mascots, including Ronald McDonald, Colonel Sanders, the Burger King, and Jack Box.
The 2020 episode "Highway to Well" features a Krusty Burger commercial where Krusty the Clown promotes "Krusty's Munchie Mouthfuls," alluding to Jack's Munchie Meals and the perception that Jack in the Box's advertising targets stoners. [1]
In the 2021 episode "Burger Kings," Homer dreams of a playplace filled with parodies of fast food mascots, including a parody of Jack Box named "Jack in the Bag."