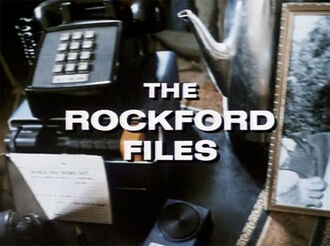 The Rockford Files is an American television drama series starring James Garner that aired on the NBC network between September 13, 1974, and January 10, 1980, and has remained in syndication to the present day. Garner portrays Los Angeles-based private investigator Jim Rockford with Noah Beery, Jr., in the supporting role of his father, a retired truck driver nicknamed "Rocky".
The show was created by Roy Huggins and Stephen J. Cannell, who devised the Rockford character as a rather significant departure from typical television detectives of the time. Rockford had served time in California's San Quentin Prison in the 1960s due to a wrongful conviction. After five years, he was pardoned. His infrequent jobs as a private investigator barely allow him to maintain his dilapidated mobile home (which doubles as his office) in a parking lot on the beaches of Malibu, California. In contrast to most television private eyes, Rockford wears low-budget "off the rack" clothing and does his best to avoid fights. He rarely carries his Colt Detective Special revolver, for which he has no permit, preferring to talk his way out of trouble. He works on cold cases, missing persons investigations, and low-budget insurance scams, and repeatedly states that he does not handle "open cases" to avoid trouble with the police.
Jack in the Box
Edit
In the 1975 episode "The Girl in the Bay City Boys Club," Jim Rockford pulls into a Jack in the Box drive-thru and asks the cashier to call the cops. He also orders a taco and a bag of fries. The cashier is initially confused but follows Rockford's directives, which allows the cops to intercept a 1974 Datsun that had been tailing him.
Rockford probably could have ordered a combo meal and gotten a beverage to go with his taco for just a small additional fee.
The cashier was played by Todd Hoffman.[1]
The Jack in the Box used in filming is located at 6551 Lankershim Blvd in North Hollywood, CA.[2]
A Jack in the Box restaurant also appears in the background of the episode "The Countess." [3]
References
Edit