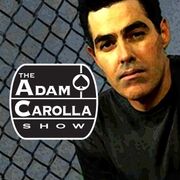 The Adam Carolla Show (formerly The Adam Carolla Podcast) is a comedy podcast hosted by comedian and radio-television personality Adam Carolla. Its first episode went online on February 23, 2009. The show is the flagship program of Carolla Digital.
The first episode of the show, which was at the time titled The Adam Carolla Podcast, was released on Feb. 23, 2009—just days after his terrestrial radio program on KLSX ended. The format of the podcast was different from that of the radio show on which it was based. The podcast, while released consistently each weekday, featured a minimal amount of production and was less structured. Episodes were generally a dialog between Carolla and one or more guests. While there were no regular co-hosts, regular guests from the radio show, including Drew Pinsky, Teresa Strasser, Dave Dameshek and Bryan Bishop, began making frequent appearances. Listener call-in was gradually added to the show and Carolla began using language that FCC restrictions prohibit on terrestrial radio.
In its first year, The Adam Carolla Podcast was selected as the Best Audio Podcast of 2009 by iTunes.
Jack Box interview
[
]
Rick Sittig was interviewed in character as Jack Box on the show in April 2009 (Episode 47).