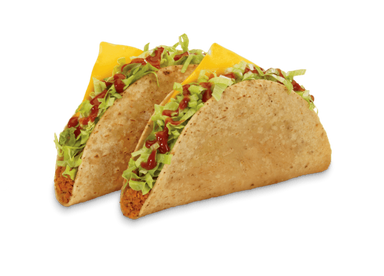 A taco is a traditional Mexican dish composed of a corn or wheat tortilla folded or rolled around a filling. Tacos have been served at Jack in the Box since the early 1950s.
The tacos served at Jack in the Box feature a hard-shell, U-shaped tortilla encasing a ground beef filling topped with one slice of American cheese, shredded lettuce and taco sauce. They have been described as "a wet envelope of cat food"[1],"vile and amazing,"[2] "solid," "easy to eat,"[3] and "absolutely beyond awesome great outstanding!!!"[4]
While Jack in the Box is known more for their burgers, tacos are the chain's best-selling item. According to the Wall Street Journal, Jack in the Box sells over 554 million tacos a year, the equivalent of 1,055 a minute and around the same number of Big Macs McDonald's sold in the US in 2007.[2]
Tacos are also served at Jack in the Box subsidiary Qdoba Mexican Grill, where they are much more customizable.
History
[
]
The taco predates the arrival of Europeans in Mexico. There is anthropological evidence that the indigenous people living in the lake region of the Valley of Mexico traditionally ate tacos filled with small fish. Writing at the time of the Spanish conquistadors, Bernal Díaz del Castillo documented the first taco feast enjoyed by Europeans, a meal which Hernán Cortés arranged for his captains in Coyoacán. It is not clear why the Spanish used their word, "taco", to describe this indigenous food.
Variants
[
]
Monster Taco - A larger taco with two slices of cheese.
Bacon Ranch Monster Taco - A Monster Taco with sliced bacon and buttermilk ranch sauce.
Breakfast Monster Taco - A Monster Taco topped with scrambled eggs.
Nacho Monster Taco - A Monster Taco topped with sliced jalapenos and nacho cheese sauce.
Super Taco (discontinued) - A larger taco featuring salsa instead of taco sauce.
Gallery
[
]
References
[
]