Swingers is a 2008 Jack in the Box commercial. It aired during Super Bowl XLII.[1]
Synopsis
[
]
Jack Box and his wife Cricket Box are enjoying a hot tub with another couple as 1970s-era funk music plays in the background. Jack comments that it's so relaxing. Cricket thanks the other couple for inviting them. "Anytime," replies the man. His female partner asks the Boxes if they're "into trying new things." "Are you talking about what I think you're talking about?" Jack asks suggestively, looking back at Cricket, who has a muted expression. "I hope so," says the woman. Jack asks if she's talking about his new Sirloin Steak Melt, which he describes as b-roll footage of the sandwich plays. "Yeah," replies the woman, "Let's make a Jack sandwich." The man raises his eyebrows suggestively.
In a white void, a bag labeled "New Sirloin Steak Melt" drops from above, quickly followed by a second bag labeled "You know you want it." above the Jack in the Box logo.
Alternate version
[
]
An alternate version of the commercial swaps the product being advertised from the Sirloin Steak Melt to the Pastrami & Swiss Ciabatta.[2]
Cast
[
]
Notes
[
]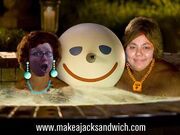 Swingers spawned an official tie-in website, MakeAJackSandwich.com, where users could upload two photos, which would appear on on either side of Jack in a hot tub.[4]
Jack mentioned the events of the commercial in an interview with reporter Nancy Luna: "You know how it is. Neighbors invite you over for dinner, and one thing leads to another, you're in the Jacuzzi, and someone wants to make a sandwich."[5]
Behind the scenes
[
]
Actor Coleman McClary, who played the unnamed man, says most of his friends did not recognize him in the role.[6]
According to McClary's IMDb biography, the commercial helped him land a role in the film Table for Three.[7]
Gallery
[
]
References
[
]