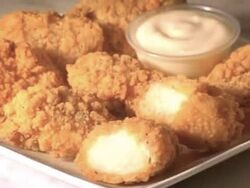 Spicy Chicken Bites was a product sold at Jack in the Box consisting of chicken breast pieces in a spicy, crunchy coating, available in 7-piece or 16-piece servings, served with buttermilk ranch dipping sauce. They were also available as part of the Sampler Trio, which initially consisted of three stuffed jalapeños, three mozzarella sticks and seven Spicy Chicken Bites. Both products launched in March 2007.[1]
Spicy Chicken Bites were discontinued at some point prior to May 2009.[2] Fried egg rolls replaced Spicy Chicken Bites in the Sampler Trio, which was discontinued in 2011.[3]
A reviewer at Phoood said the the Spicy Chicken Bites's "crunchy goodness is what sets them apart from chicken bites/strips," although "it wouldn't hurt to kick these bites up a couple of notches."[4] A poster at NeoGAF noted they were "kinda dry," advising potential buyers to "get extra bbq sauce."[5]
Advertising
[
]
Spicy Chicken Bites were featured in an alternate version of the 2006 commercial Crashes, in which Jack Box presents them as a safer alternative to sloppy foods for people on the go.
Gallery
[
]
References
[
]