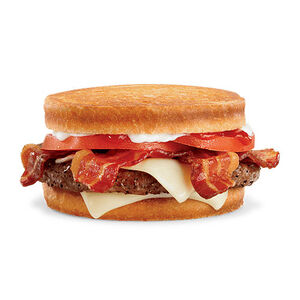 The Sourdough Jack is a signature Jack in the Box cheeseburger consisting of a beef patty topped with bacon, tomato, Swiss-style cheese, mayonnaise, and ketchup on toasted sourdough bread.[1]
The Sourdough Jack has been compared to a patty melt.[2] A Jack in the Box spokesperson once called it "an adult spin on the more traditional hamburger."[3]
The burger was originally released as the "Grilled Sourdough Burger" in 1989, with the name changed to "Sourdough Jack" in 1997.[4] It previously used Mayo-Onion sauce instead of mayonnaise.[5]
In March 2021, the official Jack Box Twitter account announced the Sourdough Jack would be discontinued, but it was only an April Fools Day joke.[6][7]
Advertising
[
]
In 1995, Jack in the Box introduced antenna balls as Jack's "sales force" for the Sourdough Jack.[8]

Controversies
[
]
In 2000, a Beaverton, Oregon couple sued Jack in the Box for $7 million after allegedly finding staples and hair in their Sourdough Jacks.[9]
Miscellaneous
[
]
"Sourdough Jack" is also the name of a cartoon character used since 1952 by the Fairbanks Daily News-Miner, an Alaskan newspaper.[10]
References
[
]