Phil was Jack Box's second-in-command at Jack in the Box, briefly serving as Acting CEO during Jack's bus accident and recovery.
He is depicted as crass, immature buffoon with little social tact and terrible business ideas. During a company meeting to develop a name for their new chicken breast strips, Phil childishly tittered with fellow male co-workers and raised his hand to make a suggestion, to which Jack immediately responded, "Don't even go there, Phil."[1] During the Christmas season, Phil attempted to get into the "holiday spirit" by joining in on a trend of wearing novelty hats with felt reindeer antlers. However, he went overboard by making his own hat with massive, real antlers, to the irritation of his co-workers. He stubbornly kept wearing the hat, destroying the walls of a narrow hallway.[2]
Phil once unsuccessfully pitched a Salad Mobile, a wildly impractical vehicle resembling a bowl of salad, to advertise the launch of a new salad. During his pitch, he drove a radio-controlled model, which malfunctioned and spilled coffee into Jack's lap, aggravating him. Prior to the pitch, Phil had a full-sized Salad Mobile built, which he evidentially drove to work.[3]
Nevertheless, Phil is occasionally competent. Jack was pleasantly surprised when Phil showed him a makeover of a Jack in the Box restaurant, stating that although he had come up with the renovations himself, he assumed Phil would've "screwed it up."[4]
Tenure as acting CEO
[
]
See also: Hang in there Jack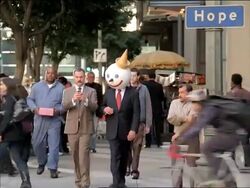 During a walk with Phil, Jack expressed a desire to let the public know they can get anything on his menu at any time of the day. Phil was clearly not paying attention, distracted by his cell phone. Jack was then hit by an oncoming bus. Phil ran to Jack's side and immediately calls for help on his phone, telling an unconcious Jack it's "not that bad," before explaining to the dispatcher that it was, in fact, really bad and that he was just lying to Jack to cheer him up.[5]
Following the accident, Phil became acting CEO of the company, and released a video statement in which he appeared quite agitated and issued a vague directive to employees to "keep doing what you do."[6] When ambushed by an interviewer, Phil appeared nervous and asked if they were a cop.[7]
Upon learning Jack was in a coma, Phil declared he would take control of Jack in the Box and honor Jack's memory. After being informed Jack wasn't dead by Dr. Robert Conley and Jack's assistant Barbara, Phil callously insisted "it's close." Despite vowing to "yell from the mountaintops Jack's message," he is dumbfounded by Barbara's invocation of Jack's desire to let people know they can order anything on the menu at any time, claiming "that does not ring a bell."[8] Barbara later mentions that she recalls Jack explaining this to Phil on several occasions.[9]
In subsequent interviews, Phil mentioned that Jack is still "with coma," seemingly frustrated that he's not responding to any of his suggestions,[10] while Barbara expressed disbelief that a man "as strong, and gifted, and brilliant, and firm as Jack" would step in front of a bus, calling it "something Phil would do."[11]
Around this point, the online videos began to take on a more accusatory tone. When asked if he pushed Jack in front of the bus (which is objectively untrue), Phil responded with "that's a terrible thing to say" and left the room.[12]
A few days later, Phil ominously stated he had big plans for Jack in the Box, which he claims he was sharing with Jack, and that he wasn't going to let Jack's coma "get in the way of progress."[13] When asked about Barbara, Phil mocks her name and describes her as "too smart to be of any value to me."[14]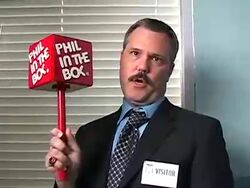 During a visit with a still-comatose Jack, Phil informs him that he's moving Jack in the Box forward, by telling the world they serve everything on the menu at any time, to which Jack thinks "yay, Phil." Phil then announces he's changing the company's name to "Phil in the Box" and holds a mockup of the future company logo. This angers Jack, who awakens from his coma and begins throttling Phil, yelling "I don't think so!" while Barbara tries to save him."[15] In a followup video, Phil expressed disapointment that Phil in the Box was a no-go, claiming "it could've been huge."[16]
Appearances
[
]
Brainstorming

(2003)

Holiday Spirit

(2004)

Makeover

(2006)

Salad Mobile

(2008)
Hang in there Jack:
Gallery
[
]
Behind the scenes
[
]
Phil appears to be a replacement for a previously recurring ad executive character, perhaps best known for pitching the Meaty Cheesy Boys to Jack.
References
[
]