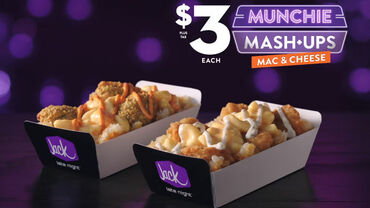 Mac & Cheese Munchie Mash-Ups were a limited-time test item currently available as part of Jack's Munchie Meal at Jack in the Box locations in the Portland, OR area.[1]
The item consists of mashed hash browns and macaroni & cheese, topped with either chicken nuggets and ranch sauce (Mac N' Chicken Hash) or stuffed jalapeños and sriracha sauce (Poppin' Mac Hash).[2]
Fast food reviewer and former Simpsons producer Bill Oakley said he really liked the two varieties even though they are "conceptually gross, it's like you dropped a TV dinner on the floor, and you didn't have anything else, so you just kinda had to scoop it back up into a bowl and eat the whole thing as a big mess, minus the cat hair and the ants."[3]
They were available for $3 until April 21, 2019.[1]
References
[
]