Jack I. Box[1] is the founder, CEO, and ad spokesman for Jack in the Box.
Early life
[
]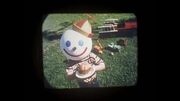 Jack was born on May 16[2] on a cattle ranch in Colorado[3] to Patty Box and her husband, an event she would later describe as "difficult."[4] He was named after his father's favorite type of cheese.[5]
As a young boy, Jack made his first Jumbo Jack on his dad's grill in the backyard.[6]
He has described his high school years as "pretty typical," although he noted he was voted Class Clown for some reason.[7] At one point, he was crushed on by a girl and had an arch-rival named Brock Anderson.[citation needed]
In his youth, Jack dreamed of becoming an astronaut and even passed all the tests.[8]
He attended Ball State University in Muncie, Indiana.[9]
Jack in the Box
[
]
Jack later moved to California,[3] where he founded Jack in the Box. According to the Jack in the Box website, he took orders from atop drive-thru speaker boxes.[2] During this period, Jack in the Box employed Ed as a fry cook, who made his secret sauce for the Bonus Jack burger.[10] In later years, Jack would come to regret firing Mark Hamill for impersonating him in the drive thru speakers.[11][12]
Exile from Jack in the Box
[
]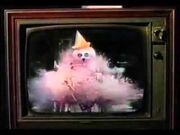 Jack was "fired" from Jack in the Box - a sarcastic euphemism for being strapped with dynamite and exploded - by the company's board of directors, which for inexplicable reasons was broadcast on television in 1980.[2] He nevertheless recuperated from his injuries and underwent the "miracle" of plastic surgery.[13] The experience would continue to haunt him in later years, making him edgy; a company executive noted "he's always afraid that there will be explosives around, so he is a lot more careful this time around."[14]
Following his exile from the company he founded, Jack became a rock guitarist. By 1989, he was the bassist of the rock band Meat Riot, which produced a hit song titled "Hot Mess" that topped the charts for 11 days.[15][16] According to Jack's MySpace profile, his guitar playing "was messing with my burger-flipping hand," so he gave it up.[3] Following the dissolution of Meat Riot, Jack used the money he'd made from Hot Mess to go to business school.[16]
At some point prior to 1992, Barbara began working as an assistant to Jack.[17]
Return to Jack in the Box
[
]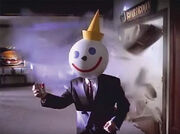 In early 1995, Jack regained his position as the "rightful head" of Jack in the Box.[18] His first act as CEO was to firebomb the company boardroom as revenge for his 1980 "firing."[13] It is unknown if any board directors were killed.
Once he was back, Jack spearheaded several new initiatives to improve the company's business practices, including spending millions to improve kitchens[19] and initiating a "we don't make it 'til you order it" policy.[20]
Jack is known for firing employees on the spot if they suggest he "jack up" the price of a Jumbo Jack,[citation needed] suck up to him,[citation needed] or eat a pancake version of his face in front of him.[citation needed] However, he also kept around executives who continually disappointed him with their incompetence, including an unnamed ad executive who repeatedly failed to understand target demographics, and Phil, whom Jack made his second-in-command.
He has also zealously defended his company's products against criticism, once accosting a man named Brad Haley who had called the restaurant "Junk in the Box" and forced him to try his food.[21] Nevertheless, Jack cares deeply about the well-being and safety of his customers and values their input. He once gave two intoxicated customers a ride home[citation needed] and offered to provide free chicken nuggets to victims of an alleged "nugging."[22] He personally checks suggestion boxes at his restaurants.[citation needed]
Jack's omnipresence in Jack in the Box advertising could be attributed to megalomania. Most if not all Jack in the Box locations feature a framed portrait of Jack labeled "Our Founder," which is unusual for a fast food restaurant. Some locations also have a parking space reserved for him.
In 1996, Jack ran for president. Although he beat out Bill Clinton, Bob Dole and the Dilbert character Dogbert in a national independent Virtual Vote poll, he was unsuccessful.[2] He later ran for an unspecified office on a pro-milkshake platform, running an ad claiming his opponent was a milkshake-hating extremist.[23] Despite his losses, Jack has maintained influence in politics, having the ear of the president.[24]
On January 28, 2001, Jack became the owner of a professional football team called the Carnivores, noting "all [his] CEO friends started buying sports franchises and it sounded like fun."[25] One the first changes he instituted was nixing the all-male cheerleading team.[26]
By 2006, Jack had authored a self-help book entitled Unleash Your Inner Jack: A Guide to Business and Life from the man who's succeeded at Jack, which offered advice such as "you've got to offer your customers anything, anytime."[27]
In February 2009, Jack was hit by a bus and ended up in a coma. During his incapacitation, Jack's second-in-command Phil became acting CEO of the company. After Phil informed him of his plan to rename the company "Phil in the Box," Jack immediately awakened from his coma and began to strangle Phil in anger.[28] Following his recovery, Jack was appointed a part-time ambassador to the Bahamas.[29]
In February 2017, his e-mail account was hacked by a group of hackers who publicly leaked their findings on a website called Jackileaks. One of their findings was Jack's attempt at poetry.[30]
Personal life
[
]
Jack met his future wife Cricket at a 1989 Meat Riot concert in Oakland, California.[15] The couple renewed their vows in 2009.[31] Together, they have a young son named Jack, Jr. and an unnamed daughter, with whom Jack shares inspirational quotes.[32]
Jack has had a number of pets over the years, including a golden retriever,[23] a bald eagle named Brock, and a bison named Sara.[33]
Jack owns nine houses,[34] at least one of which features a full-service Jack in the Box restaurant in lieu of a kitchen.[35]
Jack plays in celebrity poker tournaments, becoming champion in 2005.[36]
A sports fan, Jack and his son were once spotted at a Los Angeles Lakers game.[37]
Appearance
[
]
Jack has the appearance of a typical adult human male, with the exception of his huge round white head, blue dot eyes, black pointy nose (inherited from Nana Box), and a linear red smile. He is mostly seen wearing his yellow clown cap, and a business suit. According to Jack's California driver's license, he is 6'8" (without the hat) and weighs 195 lbs.[2] Flashback footage of him has revealed that he used to have brown hair.[38] During a 2018 scuffle, Martha Stewart managed to remove his nose. No blood spurted out, and it was easily re-applied,[39] indicating that the nose may have magnetic properties.
In a 2018 Reddit AMA, Jack credited his youthful appearance to "Curly fries. Lots and lots of curly fries,"[40] and claimed his trademark yellow hat is actually part of his body [41].
Honors and awards
[
]
1997 Silver Medalist in the World Train-Outrunning Championships [42]
2005 celebrity poker champion [36]
2008 Regional Men's Health Club Racquetball Cup Most Improved Champion of the Universe [43]
Miscellaneous facts
[
]
Jack is fluent in Standard Mandarin, which he spoke in the 1999 television ad

Titans

.[2]
Jack's comeback story (charismatic founder ousted by board in the 1980s, returns in the 1990s and guides the company to a resurgence) is similar to that of the late Apple CEO Steve Jobs.
Jack's penchant for appearing in his company's commercials is similar to the late

Wendy's

founder Dave Thomas.
Two depictions of Jack's head, "AngryJack" and "HappyJack," were default emotes on the livestreaming site Twitch.[44] They were removed in April 2019.[45]
Jack listens to Kanye West, a fact he requested be added to his wiki.[46]
Jack's favorite colors are red and purple.[47]
One of Jack's favorite video games is Rocket League.[48]
Gallery
[
]
Behind the scenes
[
]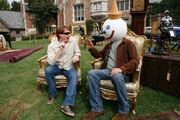 Jack Box is the modern incarnation of Jack in the Box's longtime clown mascot Jack. During the company's first few decades, drive thru menus were adorned with Jack's head to create the illusion customers were ordering directly from the character. Jack was discontinued in 1980 as Jack in the Box attempted to appeal to an older, more sophisticated demographic. The company advertised their new change in direction with a series of commercials depicting drive-thru menus featuring Jack being destroyed in various ways, including being strapped with dynamite and blown up.
In 1994, advertising executive Rick Sittig proposed the concept of bringing back the Jack character and reimagining him as a businessman.[49] "I thought it would be fun and instead of just making him a clown you order through, to bring him back as the company founder and to treat him as you would treat any other company founder on TV, whether it's Lee Iacocca or Bill Gates," he told the The Honolulu Advertiser in 1997.[50] He directed the first commercial, Jack's Back, which depicted Jack Box regaining his role as "head" of Jack in the Box and exacting revenge on the executives who had "fired" him (demonstrated by a brief clip of an explosion from a 1980 commercial) by blowing up a boardroom. Following the success of the initial campaign, Sittig would continue directing every commercial featuring him for the next two decades.
Sittig also voiced Jack (which he would occasionally refuse to confirm[51]) until 2015, when Jack in the Box severed ties with him and his agency.[52] Actor and puppeteer Jack Tate was one of an unknown number of actors who physically portrayed Jack.[53]
Jack's head was constructed by the production company Anatomorphex out of fiberglass, aluminum and electronics. A miniature camera hidden in the tip of the nose provides video to special goggles worn by the actor.[54]
References
[
]