Jack's Late Night Munchie Meal is a packaged meal sold primarily between 9 p.m. and 5 a.m., when "things at Jack in the Box get a little twisted."[1] After some testing in 2012,[2] it officially launched in September 2013.[1]
The marketing campaign surrounding Jack's Munchie Meal has been accused of targeting stoners,[3] as "having the munchies" is a common affliction associated with drug use. The website GrubGrade quipped that it's "a meal for the drunkards, the stoners, the man with glassy eyes and shaking palms."[4]
Officially, Jack in the Box maintains that it is "targeted at folks looking for indulgent treats," including late shift workers (deemed "the other nine-to-fivers"[1]) and "Millenials who get the munchies at odd hours."[5]
The supposed late-night exclusivity of Jack's Munchie Meal is something of a reversal of previous ad campaigns, such as the bus accident saga, which emphasized that Jack's full menu is available any time of day. According to one Twitter user, Jack's Munchie Meals are available during the day for $2 extra.[6]
Food
[
]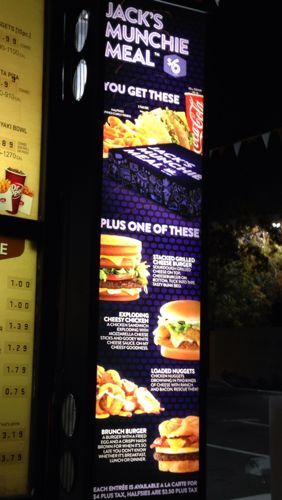 Jack's Late Night Munchie Meals comes with two tacos, "Halfsie fries" (half French Fries, half Seasoned Curly Fries), a 20 oz. drink, and one of four entrees:
Packaging
[
]
The packaging of Jack's Munchie Meal is decorated with doodles of UFOs, Jack Box, a Taco Cat, wolves, stars, a dead condiment packet, and a popsicle. The inside flap features games like "Spin the Taco" and "Napkingami." [7]
Advertising
[
]
Commercials featuring a puppet version of Jack began airing in 2013:
Gallery
[
]
In popular culture
[
]
A 2020 episode of The Simpsons features a Krusty Burger commercial where Krusty the Clown promotes "Krusty's Munchie Mouthfuls."[8]
References
[
]