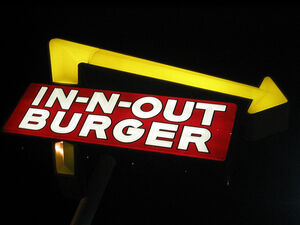 In-N-Out Burger is an American regional chain of fast food restaurants with locations primarily in California and the Southwest, and a competitor of Jack in the Box. It was founded in Baldwin Park, California, in 1948 by Harry Snyder and Esther Snyder. The chain is currently headquartered in Irvine, California and has expanded outside Southern California into the rest of California, as well as into Arizona, Nevada, Utah, Texas, Oregon, and Colorado. The current owner is Lynsi Snyder, the Snyders' only grandchild.
As the chain has expanded, it has opened several distribution centers in addition to its original Baldwin Park location. The new facilities, located in Lathrop, California; Phoenix, Arizona; Draper, Utah; Dallas, Texas; and Colorado Springs, Colorado will provide for potential future expansion into other parts of the country.
In-N-Out Burger has chosen not to franchise its operations or go public; one reason is the prospect of quality or customer consistency being compromised by excessively rapid business growth. The In-N-Out restaurant chain has developed a highly loyal customer base and has been rated as one of the top fast food restaurants in several customer satisfaction surveys.
Jack in the Box
[
]
In a 2021 Jack in the Box promotional video, comedian Gabriel Iglesias pitches Jack in the Box curly fries to patrons of rival restaurants, including In-N-Out.[1]
References
[
]