We're Getting Mutants in the MCU - The Loop
Play Sound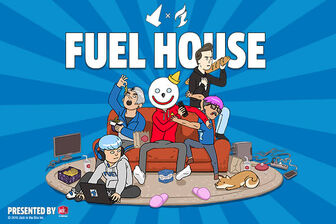 Fuel House is a six-part[1] animated series featuring Jack Box living in a house with members of the Dallas Fuel esports team. Animation was provided by the agency Roger. [2]
Characters
[
]
Dallas Fuel
[
]
OGE - loves kicks and he's from Korea
EFFECT - likes keys (as in keyboards) and is also from Korea
uNKOE - hails from France and doesn't like to dance
Mickie - no description in the theme song
Others
[
]
Jack Box - CEO of Jack in the Box, the team's corporate sponsor
Jack Bot - A malicious robot programmed to learn everything about the team
The In-Fuel-encer - A social media influencer Jack booked to advertise "Fuel Fest"
Neighbor - A next-door neighbor. Portrayed by a contest winner.
Episodes
[
]
No.
Title
Original air date
1
Stretched
April 14, 2019
OGE discovers his jersey has been stretched out. He angrily confronts Jack, who initially feigns innocence, but then tearfully confesses to using the team's stuff out of a desire to be like them.
2
Cosplay, Baby!
April 21, 2019
Jack shows off his new mech suit, accidentally blowing up the titular house with a heat-seeking sidewinder missile.
N/A
Theme Song
April 25, 2019
3
Jack Bot
April 28, 2019
Jack introduces the team to Jack Bot, a robot programmed to learn everything about the team to help him become the "biggest Fuel fan in history." uNKOE tells the team about his previous encounters with Jack Bot violating his privacy and throws it in the trash.
4
Positive Effect
May 5, 2019
Jack takes EFFECT out for a day off.
5
Fuel Fest
May 12, 2019
Jack pitches a tropical island experience called "Fuel Fest," which he claims will be pulled off in only two weeks, but the team rejects the pitch, citing logistical issues.
6
Revenge of...
May 19, 2019
The team discusses superpowers they'd like to have. Jack Bot, seeking revenge, bursts through the fence and douses them with toxic waste. The team immediately develops the same superpowers they had wished for, which they use to explode the robot. Jack Box is dismayed, but realizes he "can just make another one."
Trivia
[
]
Jack Box's face is fully animated for the first time. In the live-action commercials, Jack's facial expressions only change between shots, with a few exceptions.
The name of the series is a play on the sitcom Full House.
It is unclear why Jack abandoned his family.
Universe
[
]
Fuel House is considered a universe separate from the Jack Box Universe.[3]
Gallery
[
]
References
[
]