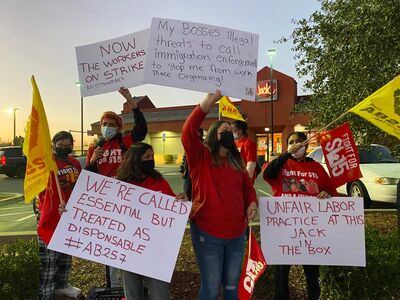 The Fight for $15 is an American political movement advocating for the minimum wage to be raised to $15 (United States dollars) per hour. The federal minimum wage was last set at $7.25 per hour in 2009. The movement has involved strikes by child care, home healthcare, airport, gas station, convenience store, and fast food workers for increased wages and the right to form a labor union. The "Fight for $15" movement started in 2012, in response to workers' inability to cover their costs on such a low salary, as well as the stressful work conditions of many of the service jobs which pay the minimum wage.
The movement has seen successes on the state and local level. California, Massachusetts, New York (downstate only), Maryland, New Jersey, Illinois, Connecticut, and Florida have passed laws that gradually raise their state minimum wage to at least $15 per hour.[1] Major cities such as San Francisco, New York City and Seattle, where the cost of living is significantly higher, have already raised their municipal minimum wage to $15 per hour with some exceptions. On the federal level, the $15 proposal has become significantly more popular among Democratic politicians in the past few years, and was added to the party's platform in 2016 after Bernie Sanders advocated for it in his presidential campaign.[2]
In 2019, the Democratic-controlled House of Representatives passed the Raise the Wage Act, which would have gradually raised the minimum wage to $15 per hour. It was not taken up in the Republican-controlled Senate. In January 2021, Democrats in the Senate and House of Representatives reintroduced the bill.[3] In February 2021, the Congressional Budget Office released a report on the Raise the Wage Act of 2021 which estimated that incrementally raising the federal minimum wage to $15 an hour by 2025 would benefit 17 million workers, but would also reduce employment by 1.4 million people.[4][5] On February 27, 2021, the Democratic-controlled House passed the American Rescue Plan pandemic relief package, which included a gradual minimum wage increase to $15 per hour.[6] The measure was ultimately removed from the Senate version of the bill.[7]
Strikes and protests in the United States
[
]
On November 29, 2012, over 100 fast-food workers from McDonald's, Burger King, Wendy's, Domino's, Papa John's, Kentucky Fried Chicken and Pizza Hut walked off their jobs in New York City, New York in strike for higher wages, better working conditions and the right to form a union without retaliation from their managers.[8][9] Many workers were making the minimum wage at the time. However, many allegedly were making, and are currently making, less than the minimum wage due to wage theft on the part of their employers.[10] This was the largest strike in the history of the fast-food industry.[11] Earning less than a living wage has forced many fast-food workers to have multiple jobs and obtain forms of government assistance such as food stamps in order to afford basic food, shelter and clothing.[12] This rate is declared to be below what the Massachusetts Institute of Technology considers to be a "living wage" (based on cost of living and necessary expenses) for all five boroughs of New York City.[13] Time described this initial effort as seizing on the public's concern with economic inequality in the United States as stimulated by the Occupy Wall Street movement in 2011 and 2012.[14]
The strike was organized by over 40 personnel from New York Communities for Change, Service Employees International Union, UnitedNY, and the Black Institute.[15] On April 4, 2013 (the 45th anniversary of the assassination of Martin Luther King Jr. during the Memphis sanitation strike) more than 200 fast-food workers went on strike in New York City. Hundreds of other workers went on strike in Chicago on April 24, in Detroit on May 10, in St. Louis on May 9 and 10, in Milwaukee on May 15 and in Seattle on May 30.[16][17][18]
On July 29, approximately 2,200 workers went on strike in all of the cities where fast-food workers had previously gone on strike with the addition of Flint, Michigan and Kansas City, Missouri.[19][20]
A coordinated national fast-food strike took place on August 29. In Seattle, Washington, the protests influenced candidate Ed Murray to release an "Economic Opportunity Agenda for Seattle". This agenda was later partially adopted by the Seattle city council, which voted to raise the minimum wage to $15.[21]
On December 6, 2013, further fast food strikes occurred nationwide in a campaign aimed at raising the minimum wage to $15 per hour.[22]
On September 4, 2014, another national strike took place in more than 150 cities, but this time thousands of home care workers joined the fast food workers.[23][24] In another departure from previous protests, organizers shifted tactics and encouraged acts of civil disobedience such as sit ins to further draw attention to their cause. Between 159 and 436 arrests were made.[25][26] Striking fast food workers from Ferguson, Missouri were arrested in Times Square, New York City, in solidarity with workers there nearly a month after the police shooting of Michael Brown.[27]
On December 4, 2014, thousands of fast food workers walked off of the job in 190 U.S. cities to engage in further protests for $15 an hour and union representation, and were joined by caregivers, airport workers, and employees at discount and convenience stores. The strikes were also bolstered by anger over the deaths of Michael Brown and Eric Garner at the hands of police. Chants of "15 and a union" were accompanied by "Hands up, don't shoot" and "I can't breathe." Kendall Fells, organizing director for Fast Food Forward, claimed the strikes were "fights against injustice in the U.S."[28][29][30] Organizers from Black Lives Matter supported the strike.[31][32]
On April 15, 2015, tens of thousands of fast food workers in more than 200 cities took to the streets again in what labor organizers have described as the largest protest by low-wage workers in US history. In their campaign to raise the minimum wage to $15 an hour, labor activists and fast food workers were joined by home care assistants, Walmart workers, child-care aides, airport workers, adjunct professors and others who work low-wage jobs.[33] Gary Chaison, a professor of industrial relations at Clark University, noted that this protest movement is unique among labor disputes:
What is really significant about the Fight for $15 movement is – most labor disputes, look inside, they're about a group of workers covered by a collective bargaining agreement. In the Fight for $15, unions are helping to organize on a community basis, a group of workers who are on the fringe of the economy. It's not about union members protecting themselves. It's about moving other people up. This is the whole civil rights movement all over again.
Another strike took place in November 2015.[34] U.S. Senator Bernie Sanders (I-VT) voiced his support for the striking workers and a $15 an hour federal minimum wage at a Fight for $15 rally in Washington DC.[35][36]
Affected industries
[
]
Restaurant industry
[
]
The impact on employers and workers within the restaurant industry is a major focus of the Fight for $15 movement. According to the U.S. Bureau of Labor Statistics, restaurants and other food services employ about sixty percent of all workers paid at or below the minimum wage, as of 2018.[37] Common responses to minimum wage increases include restaurant operators cutting employee hours and raising menu prices.[38] In cities such as New York City and Seattle that have already implemented a $15 minimum wage for most businesses, menu price increases have been a trend.[39] Politicians, economists, restaurant owners and workers continue to debate the economic viability and benefits of a federally mandated $15 minimum wage.
Economists of the Economic Policy Institute have largely come out in support of a $15 federal minimum wage.[40] Their outlined plan entails a gradual increase, reaching $15 by 2024. Fast-food restaurants are a key focus in the Fight for $15 movement. Some argue that turnover reductions, trend increases in sales growth, and modest annual price increases would allow for this bump in minimum wage without forcing the restaurants to shed employees.[41] While most advocates acknowledge rising prices as a result of the higher wages, they generally accept this outcome and believe it will not have a major negative impact on dining/overall sales. Advocates for the movement also point to research that finds the average estimated employment effect of minimum wage increases to be very small.[42]
A common argument against raising the minimum wage in restaurants to $15 is that it could cause cuts to employee hours, as well as potential layoffs or restaurant closures.[38] Increases in restaurant prices is another impact opponents cite as a reason to be cautious when considering a federal minimum wage adjustment. While economists are divided on this issue, many who oppose a $15 minimum wage believe employers will seek out workers with greater skills for entry-level positions, hurting many low-wage workers today such as fast-food employees.[43] Some economists argue that with a higher minimum wage, restaurants will replace workers with robots and automation.[44]
Waiters, bartenders, and other food service workers who primarily work for tips may utilize the federal tipped minimum wage, which is currently $2.13 an hour. A tip credit is the difference between their minimum wage and the cash wage an employee is paid during a pay period, accounting for tips that do not add up to the federal minimum wage. Many advocates for a $15 minimum wage, including restaurant owners, believe that restaurants should get rid of the tip credit pay structure, as they find it is not beneficial to low wage restaurant workers.[45]
References
[
]