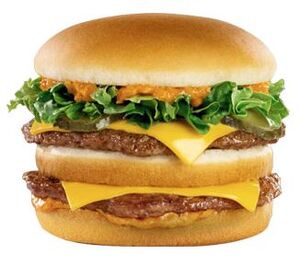 The Bonus Jack was a hamburger sold by Jack in the Box. It was one of the company's signature products.
The Bonus Jack was first released in the mid-1960s, where it was the first double-decker burger in the fast food industry.[1] It was replaced by the Jumbo Jack in 1971 to compete with the trend of quarter-pound hamburgers.[1] It has since been reintroduced to the menu at various times throughout the years.
Similar to the McDonald's Big Mac,[2] the Bonus Jack consists of two burger patties, American cheese, Jack's Secret Sauce, shredded lettuce, and two pickle slices on a three-piece bun.[3]
References
[
]