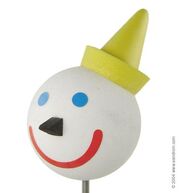 Antenna balls are a promotional item given away at Jack in the Box restaurants.
Designed to resemble Jack Box's head, they were first sold with the purchase of a Sourdough Jack burger in 1995.[1] Over the years, there have been many variations to mark special occasions.
As a Jack in the Box product manager explained, "the antenna balls [gave] fans a fun token for their vehicle while giving the company a mobile billboard that could possibly be seen by thousands of people."[1]
Jack in the Box claims over 32 million antenna balls have been sold or given away by the restaurant since their introduction.[2]
History
[
]
Antenna balls were originally introduced in 1967 as a means to advertise Union 76 gasoline, and were popular until the fad died out in the early 1980s.[1] They had a huge resurgence in 1995, when Jack in the Box introduced a line of antenna balls designed to resemble Jack Box's head.
Trivia
[
]
In 2000, an ad involved a man washed up on a remote island with only a Jack in the Box antenna ball as company. Later that year, director Robert Zemeckis, claiming the agency had appropriated elements of his Oscar-nominated film Cast Away for the ad, had his lawsuit against the ad agency thrown out.
Jack Box Universe
[
]
In various Jack in the Box commercials, antenna balls are depicted as sentient creatures capable of speech and movement who work for Jack in the Box.
The nature of their existence in the Jack Box Universe remains something of a mystery, although there are a number of theories. Some say they are artificial objects granted life through magic, or biological organisms. Others say they are relatives of Jack Box that happen to be lower on the evolutionary spectrum. Some also question whether or not genetic engineering was involved in their creation. This presents a host of ethical quandaries, such as that if they're alive and sold, whether or not that would make Jack in the Box complicit in slavery. Thus far, the commercials have failed to answer these questions, and it is unlikely they will ever be officially addressed.
Their latest appearance was in 2019 where an antenna ball got offended when Jack called them "silly giveaways".
Gallery
[
]
References
[
]